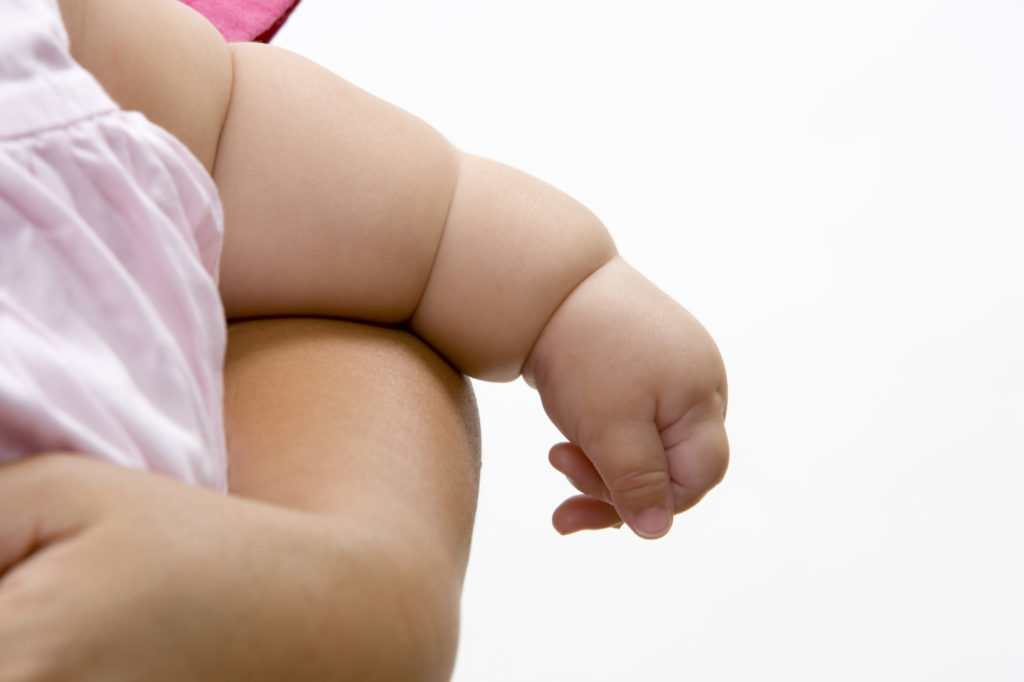 By Lisa Pecos
Who doesn't love a chubby baby? While round cheeks and soft rolls are often considered cute on a baby, too much weight can increase your baby's risk of obesity by the time they become toddlers, according to a new study by the Children's Hospital of Philadelphia…
The Study
The study published in in the journal Pediatrics on April 22, 2016; found that babies with a high body mass index (BMI) at the age of two months are at risk for obesity at the age of two years. This indicates that BMI can better predict early childhood obesity than the current standard measurement, weight-for-length (WFL).
The research team analyzed medical records of close to 74,000 infants seen between 2006 and 2011 during the first two years of their lives in the Children's Hospital of Philadelphia's pediatric network. They found that 31 percent of babies aged two months with a BMI at or higher than the 85th percentile were obese by two years of age in comparison to 23 percent of two year olds at the 85th percentile by WFL. They also found that 47 percent of babies at the 97.7th percentile for BMI at the age of two months were obese by the age of two years in comparison to just 29 percent by WFL.
In conclusion, researchers found that while BMI and WFL were similar after the age of six months, a high BMI at the age of two months better predicts obesity than WFL and recommend that doctors consider measuring BMI in infants instead.
Predicting Obesity
Though this is the first known study to compare BMI and WFL for predicting obesity risk, there was another study presented by researchers from the Cincinnati Children's Hospital Medical Center at the national Endocrine Society meeting on April 1, 2016, that found that severe obesity can be predicted as early as the age of 6 months. It was the first study to show that weight gained in infancy is different for those that develop obesity later on.
The World Health Organization (WHO) and the U.S. Centers for Disease Control and Prevention (CDC) don't currently recommend using BMI-for-age growth chart in children under two years of age. These studies, however, show that BMI may help doctors predict obesity early on, giving them the opportunity to prevent it.
Keeping Your Baby Healthy
The best a mother can do to keep her baby at a healthy weight and healthy overall is to monitor the baby's weight and growth and ensure that the baby is feeding well.
Here are a few things to remember:
The average weight at birth is between 6 and 9 lbs. Birth weight varies because of factors such as how early the baby is born, gender, the mother's health during pregnancy, and more.
It's normal for newborns to lose some weight in their first week of life. This can range from 5 percent in formula-fed newborns and 7 to 10 percent in breastfed newborns. Much of that weight will usually be gained back with approximately 14 days.
Newborns should be weighed at birth, a week after birth, and again at two weeks. Those with health concerns may require more scheduled weight checks.
A newborn should be having at least 5 to 7 wet diapers and 3 to 4 dirty diapers daily. This can change as time goes on.
A baby should be satisfied for a little while after being fed if they're getting enough nutrients from breast milk or formula.
Any concerns about your baby's weight or growth should be discussed with the pediatrician.