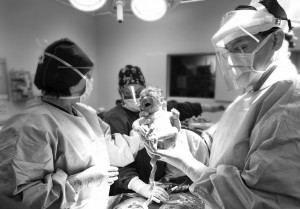 Many women who are having twins opt to have C-sections, to improve chances of having safe deliveries. But a new study, published in October, 2013, in the New England Journal of Medicine, found that moms and babies do equally well, whether the deliveries are vaginal or by C-section. Surgery was only performed when there were complications that could make vaginal delivery dangerous, such as when the second twin had entered the birth canal with the buttocks or feet first, rather than the head; this condition is known as a breech birth.
An experienced doctor is able to determine when to switch from a planned vaginal delivery, to a caesarean delivery, to improve odds that there will be no bad outcomes for the mother or for the babies. In the case of this study, which examined 2,800-plus deliveries, women who were planning to have their twins vaginally wound up getting C-sections 44 percent of the time. But this was still a big improvement over moms who had planned to have C-sections, and who got the surgeries 91 percent of the time (the other 9 percent went into labor and delivered their babies before a C-section could be performed).
In the study, women in similar good health were randomly picked to have either vaginal births or caesareans. The rates of birth injuries, infections, deaths of mothers or babies, and other bad outcomes were the same in both groups of women. Two percent of babies and 7 to 8 percent of mothers in each group suffered serious complications or died.
Lead author John Barrett, associate scientist at the Sunnybrook Health Sciences Centre in Toronto, Canada, and a specialist in maternal-fetal medicine, stated that many experts believed that the study would find that planned C-sections were safer for twin deliveries, as many second-born twins enter the birth canal in the bottom-down position. (C-sections are still considered to be best for breech babies, even in single-baby pregnancies.)
Women were not accepted for the study when the first twin, lower in the mother's pelvis, was in the breech position after 32 weeks of gestation. In cases like these, and in other cases where vaginal delivery might pose higher risk, a planned C-section is still the best course, Dr. Barrett said. About half of all twin pregnancies fall into this category.
The study used patient information from 106 hospitals in 25 countries, including 8 hospitals in the United States.
The rate of C-sections for single births in the United States is currently about 31 percent; C-section rate for twins was 75 percent in 2008, up from 54 percent in 1995, according to an editorial that accompanied publication of the study.
When medical conditions or complications do not warrant a C-section, there are benefits for the mother in delivering vaginally, including a faster recovery time and a shorter hospital stay. For a baby, going through its mother's birth canal helps to colonize his or her skin and gut with the mother's bacteria, which helps to decrease the possibility of allergies in the baby later on.
By Lisa Pecos