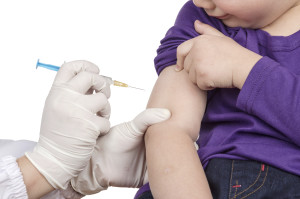 Doctors Are Urging Parents to Vaccinate Children Against Measles, as Cases Continue to Climb in U.S.
The recent measles outbreak in California has doctors urging parents to vaccinate their children against the disease, as both the number of cases and number of states reporting cases continue to grow, according to the latest figures from the Centers for Disease Control and Prevention.
Since the beginning of 2015, more than 150 cases of measles have been reported to the CDC by 14 different states, with most cases stemming from an outbreak in a Disney California Adventure Park in Anaheim, CA. Most people who were infected with the measles virus had not been vaccinated, according to health authorities.
The CDC believes that the measles virus was brought into the country by foreign travelers; that's because in 2000, measles had been eradicated from the United States, through high rates of vaccination.
Individuals who were infected at the California park went on to expose others, mostly people who were unvaccinated against the virus, at schools, day care centers, in airplanes and at clinics, doctors say.
The outbreak is of special concern because growing numbers of American parents have abstained from vaccinating their children in recent years, due to fears that many have that vaccines may be linked to autism and other serious reactions in children. Health authorities continue to maintain that vaccines are completely safe, in most cases.
The reluctance to vaccinate children may also stem from the fact that the illness hasn't been seen very often in this country in recent times; therefore, parents are unfamiliar with the serious risks that the measles disease itself poses. These risks include permanent hearing loss, brain damage and death. The Los Angeles Times reported that in 2007, the rate of unvaccinated children in California was 1.5 percent; in 2013, the rate had climbed to 3.1 percent.
A recent poll of 3,000 doctors found that 92 percent of them believe that the current measles outbreak is directly related to parents not vaccinating their children; 72 percent of those doctors believe that kids who have not been vaccinated should not be allowed in public schools.
Because babies cannot be vaccinated before they're 12 months old, they are among the most at risk of being infected. Parents should take extra precautions to keep their infants who can't yet be vaccinated safe.
The CDC recommends that all children get two doses of the MMR (Measles, Mumps and Rubella) vaccine: the first at 12 to 15 months, and the second at 4 to 6 years of age. Adults who are not sure that they got the MMR vaccine should go ahead and get it, as there is no risk in getting it again, according to the CDC.
In recent years, the measles virus has been spreading through Europe and Africa; it's one of the leading causes of death among children worldwide. In the U.S., the numbers of yearly measles cases reported have been in the hundreds in the last several years, up from an average of about 60 cases a year.
Symptoms of the measles include a rash, high fever, runny nose and watery eyes.
By Cynthia Sanchez. A graduate of the University of Washington, Cynthia has extensive experience writing about health and wellness topics for different media.