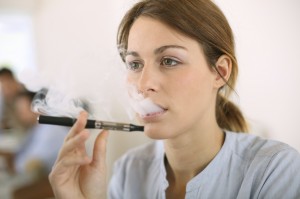 Many American adults and teens have turned to e-cigarettes in the last few years, as a way to avoid the harmful smoke that conventional cigarettes produce, while still getting the nicotine they want. E-cigarettes are also allowed in some places where people can't smoke regular cigarettes.
But as more e-cigarette liquids, with their nicotine, make it into American homes, increasing numbers of small children are being inadvertently poisoned by the liquids and their vapors.
A new study by the Centers for Disease Control and Prevention has found that American poison control centers are getting more calls reporting small children with different adverse health effects from nicotine exposure; the most commonly reported effects were vomiting, nausea and eye irritation.
Small children can be exposed to the nicotine in e-cigarette liquids by drinking the liquids themselves, inhalation of the vapors produced by someone smoking an e-cigarette, or through contact with the liquid via the skin or eyes. (Exposure of small children to nicotine in regular cigarettes usually occurs by children eating the actual cigarettes.)
In September 2010, American poison control centers were getting one call a month concerning small children being poisoned with e-cigarette nicotine; that number had risen to 215 calls a month in February, 2014. More than half (51.1 percent) of the calls involving e-cigarettes were about children under age 5; 42 percent were about people 20 years and older.
Due to the far greater numbers of conventional cigarette smokers, poison control centers are still receiving more calls involving regular cigarettes; however, the percentage of e-cigarette calls is fast climbing. E-cigarette calls accounted for 0.3 percent of all cigarette-related calls in September, 2010; by February, 2014, that number had climbed to 41.7 percent. In addition, more calls about e-cigarettes were likely to include a report of adverse effects than calls about regular cigarettes.
E-cigarette liquids as they are currently sold are a "threat" to small children, stated CDC Director Tom Frieden, MD, MPH, adding that these liquids are not required by law to be child-proof, and that they often come in candy and fruit flavors that appeal to children.
Some members of Congress are calling for the Food and Drug Administration to step in and start regulating the sale and marketing of e-cigarette products, in a similar manner that conventional cigarettes are currently regulated.
Lawmakers have pointed out that e-cigarette manufacturers presently advertise and give away free products at kid-oriented and kid-friendly events. There are no current limits on how e-cigarette makers can advertise or market their products. Only 28 states have minimum age requirements for the purchase of e-cigarettes.
According to the CDC report, e-cigarette use by high school students increased from 4.7 percent in 2012 to 10 percent in 2013.
Update: On April 24, 2014, the FDA announced a set of proposed new rules aimed at restricting the sale of e-cigarettes, cigars and pipe tobacco to minors; the products would also now carry warning labels. The public will have 75 days to comment on the FDA's proposal before guidelines are finalized.
By Lisa Pecos