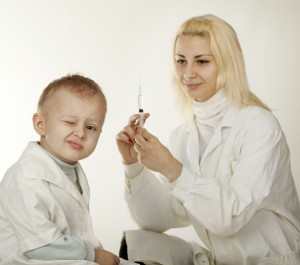 Current medical practice in the United States is to give babies their first measles shot between 12 and 15 months, while in Canada, that measles shot is given at 12 months. But a new study out of Quebec shows that waiting until 15 months offers children better immunity against the measles later on.
In a recent large measles outbreak in Quebec, students who had gotten their first measles shot at 12 months were found to be about six times more likely to come down with the measles than those who had gotten their first vaccination later.
Lead study author Gaston De Serres, MD, PhD, and his colleagues noted that when measles vaccines first started being given in clinical practice, they were given to babies at 9 months; however, this quickly changed when doctors saw that the efficacy of the vaccine was greater when it was given later.
Here in the United States, the U.S. Advisory Committee on Immunization Practices first recommended in 1998 that the initial measles shot be given between 12 and 15 months, followed by a booster shot later. But American children usually have a scheduled visit to get their shots at 12 months, so, they generally get that first measles shot at that time.
The study was prompted by a large measles outbreak in 2011 at a high school in Quebec, which mostly affected people who had not been immunized. Upon analysis, it was found that among students who had been given two doses of the vaccine, those who got the first shot at 15 months or later had been less likely to come down with the measles.
Dr. De Serres and colleagues examined all confirmed measles cases in the Canadian province among students 5 to 17 years old, who had gotten two doses of the measles, mumps, rubella (MMR) vaccine at 12 months or older, and who came down with the measles between January 1 and December 31, 2011. Control group members, who had also gotten two vaccines starting at 12 months or older, were chosen randomly from the province's vaccination registry, then matched for age and school. Researchers studied 102 measles cases, including 41 from the school where the original outbreak occurred, and 510 controls.
Among those infected outside the outbreak school, 90 percent of the cases and 72 percent of the controls had their first shot at 12 or 13 months old. Comparatively, 4.8 percent of cases and 19.6 percent of the controls got their first shot at 15 months or later. Researchers calculated that the risk of catching the measles outside of the outbreak school was 6.2 times higher when the first vaccine was given at 12 or 13 months than when it was given at 15 months or later. In a combined analysis including the outbreak school, the risk was found to be 5.2 times higher for those who got the vaccine at around 12 months.
Most students who came down with the measles during the outbreak were found not to have been immunized, or could not be shown to have been immunized. Doctors noted that it is important that children get immunized against the measles, though the general practice of when that first shot is given is not likely to change based on only the results of the Quebec study.
Researchers at the Quebec National Institute for Public Health advised that more studies should be conducted to better understand why delaying that first vaccine seems to offer better protection. One American doctor suggested comparing antibody levels in babies when they get vaccinated on schedule vs. later, though it could take many years to obtain the data for such a study. Some American moms have advocated for delaying vaccination schedules for babies, and it is a topic that you can discuss personally with your child's pediatrician, emphasizing your personal preferences.
Results for the above study were published recently online in the journal Pediatrics.
Lisa Pecos