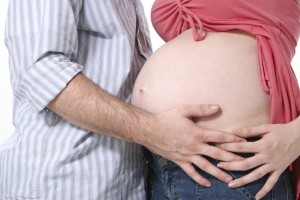 Using 4-D scans, psychologists have uncovered that a baby learns to open its mouth in preparation for putting a hand in the mouth several weeks before full gestation.
Researchers from Durham and Lancaster universities in England performed 60 scans of 15 healthy fetuses at monthly intervals, between 24 and 36 weeks of pregnancy. The youngest fetuses were more likely to touch the upper part and sides of their heads. But as the fetuses got older, they began to more often touch the lower part of their faces, including the mouth; the lower part of the face is the more sensitive part. By 36 weeks, a greater number of the babies began opening their mouths before touching them, suggesting that they were able to anticipate that they were about to touch their mouths. Younger fetuses tended to open their mouths after having placed their hand on it, meaning that they were responding to the touch.
Increased sensitivity around the mouth at a later stage in gestation could help to prepare the fetus for feeding once the baby is born, and sequential events (such as opening the mouth, then putting a hand in it) signal increased maturity in the fetal brain. Lead author Dr. Nadja Reissland, professor of psychology at Durham University, stated that increased touching of the lower part of the face and the mouth could indicate brain development that the baby will need for social interaction, as well as feeding.
The research was published in October, 2013, in the journal Developmental Psychobiology. Researchers studied eight girls and seven boys; they noticed no difference in behavior between the boys and the girls. The study could offer another measure by which doctors can monitor a healthy unborn baby's development, as well as improve understanding of the limitations with which premature babies are born.
Dr. Reissland and colleagues had previously conducted scans of baby fetuses between 24 and 36 weeks' gestation, which found that the movements in an unborn baby's face become more complex as the baby nears full term. In that study, fetuses at 24 weeks were able to move one facial muscle at a time; but by 35 weeks' gestation, the fetuses were able to combine multiple facial movements into recognizable facial expressions, such as those used in laughing or in crying. A baby cannot make sounds before he or she is born; but by the time the infant arrives, he or she has already developed the facial movements that will accompany crying, laughing or feeding. In 2012, Dr. Reissland also published research using fetal scans, which showed that babies yawn while still inside the womb.
By Jamell Andrews