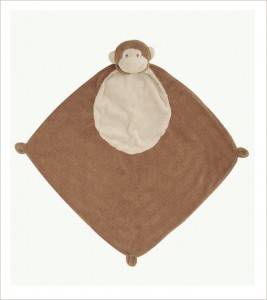 Loveys–a child's best friend. My firstborn never had one (just sucked his fingers when he needed soothing) but my daughter has a blankie–and boy-oh-boy do I make sure that thing is never out of sight. It has tags all around, and she sucks on one while stroking another. It's been through thick and thin, and I'm still amazed by the power it has to comfort. Here are five great choices–whether you're shopping for your own child or need a great baby gift.
Angel Dear
These blankets all have an animal theme (my favorite is the monkey shown here) with a head to cuddle and knotted corners to chew on. From the manufacturer, "
Angel Dear Blankies are sweet, charming characters, machine-washable and cashmere-soft. 14″ square with just the right simple details to soothe and delight.
"
Angel Dear "Dark Monkey," $13.00. Click here to order.
My son received a big version of the Little Giraffe blanket, and I don't know if I've felt anything softer. So cozy, and great to cuddle up to, the loveys have soft satin around the outsides, with the comfy fleece on the inside. From the site Layla Grace, "Choose from blue, celadon or pink dot satin. Machine washable, air dry. Blanket is 15″ x 15″." Little Giraffe Security Blanket Luxe Cream Satin Dot, $29.00. Click here to order.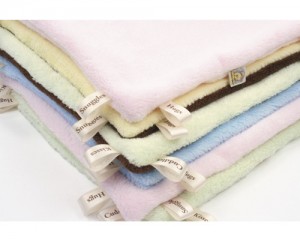 I can not say enough about this blanket–it has been a lifesaver for my daughter. The tags, which were once white, are now a cream color, she's loved it so much. I'm always amazed by the soothing effect–and the fact that I can lay her in the crib to fall asleep on her own–as long as she has this blanket. From the manufacturer, "Soft cuddle plush with custom ribbons – Snuggles & Hugs, Kisses & Cuddles. 12″x11″ Double plush in same color or one side chocolate." Comfort Silkie Ribbon Plush Blankie, $17.00. Click here to order.
This ingenious design has a pocket, so the blanket can fold into itself plus carry essentials, such as a pacifier, that your baby may need while on the go. From the manufacturer, "Much more than a traditional security blanket, the PocketLovey is also a pillow, a storage pouch for items such as pacifiers or trinkets, and a toy in itself—all wrapped up into one neat little package." PocketLovey in Classic White and Red, $28.00. Click here to order.
This blankie wins the award for being the cutest. I can't get enough of those owls–sure to delight any baby (and mom) on your gift giving list. From the manufacturer, "This plush lovey blanket is the ultimate luxury for babies. It is made with the highest quality materials. The designer fabric is the popular Spotted Owls by Alexander Henry. The reverse side is a luscious cream minky. The two layers are bound with a silky sage 2″ satin border. This lovey is approximately 17″ x 17″." BoCo Baby Spotted Owl Blankie, $25.00. Click here to order.